Pumpkin Patch October 26, 2019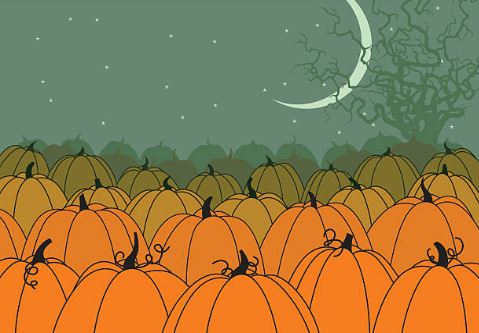 Saturday, October 26th
Pumpkin Patch Event!
Our scholars, teen volunteers, and staff will all be coming together for a morning of picking pumpkins, exploring the straw maze, jumping in bouncers, feeding animals in the petting zoo, pony rides, and more. Email RRunburg@wisela.org if you are interested in attending this event!
Holiday Party December 14, 2019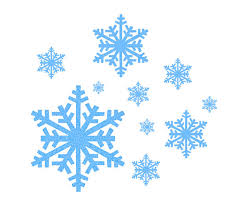 Saturday, December 14th
Holiday Party!
An annual Wise Readers to Leaders tradition, the Holiday Party is an amazing opportunity for our Teen Volunteers to catch up with our scholars. Families and friends come together to celebrate the holiday season with food and activities. This event is largely planned by our Teen Board members!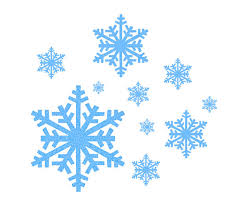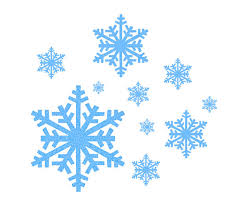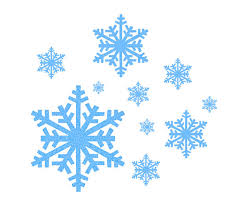 The last day of summer is emotional each and every year, but it is one of our scholars' favorite days. We bring in bouncers, water slides, snow cones, face paint, pizza, and more. We give out backpacks, notebooks, planners, pencil cases, and more to prepare our scholars for the school year ahead. As our scholars get on the bus for the final time, many tears are shed.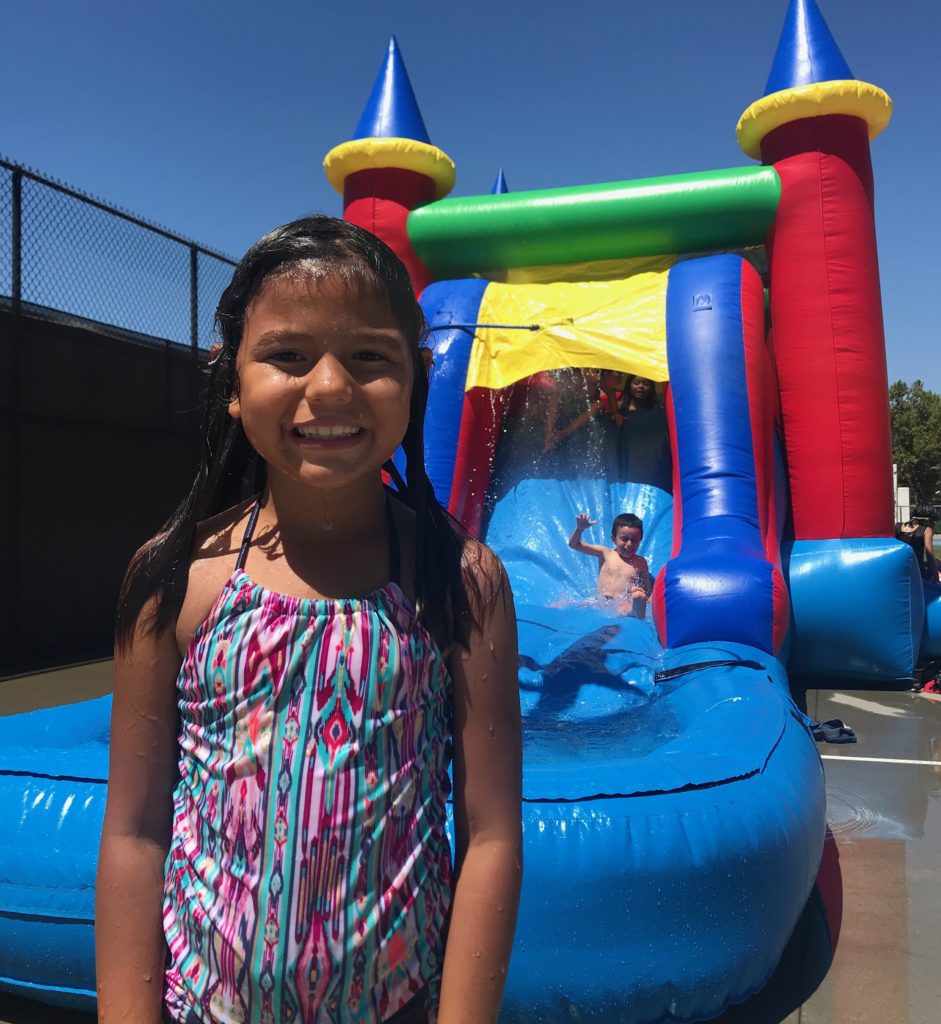 Underwood Family Farms Field Trip 2019
July 26, 2019
On July 26th we all took a field trip to Underwood Family Farms in Moorpark, California. We started the day off with a lesson on fruits and vegetables from Farmer Juan. Then we loaded into wagons to head over to the strawberry fields. We helped our scholars carefully pick a basket full of strawberries that they all got to eat and take home! Then we got to watch an animal show full of birds, pigs, and ponies. After that, scholars got the chance to feed many of the farm animals. It was one of the most memorable and fun days of the summer!
For our Impact Day 2018 we had a morning of campus beautification at Stanley Mosk Elementary. This event was generously sponsored by the Leigh family.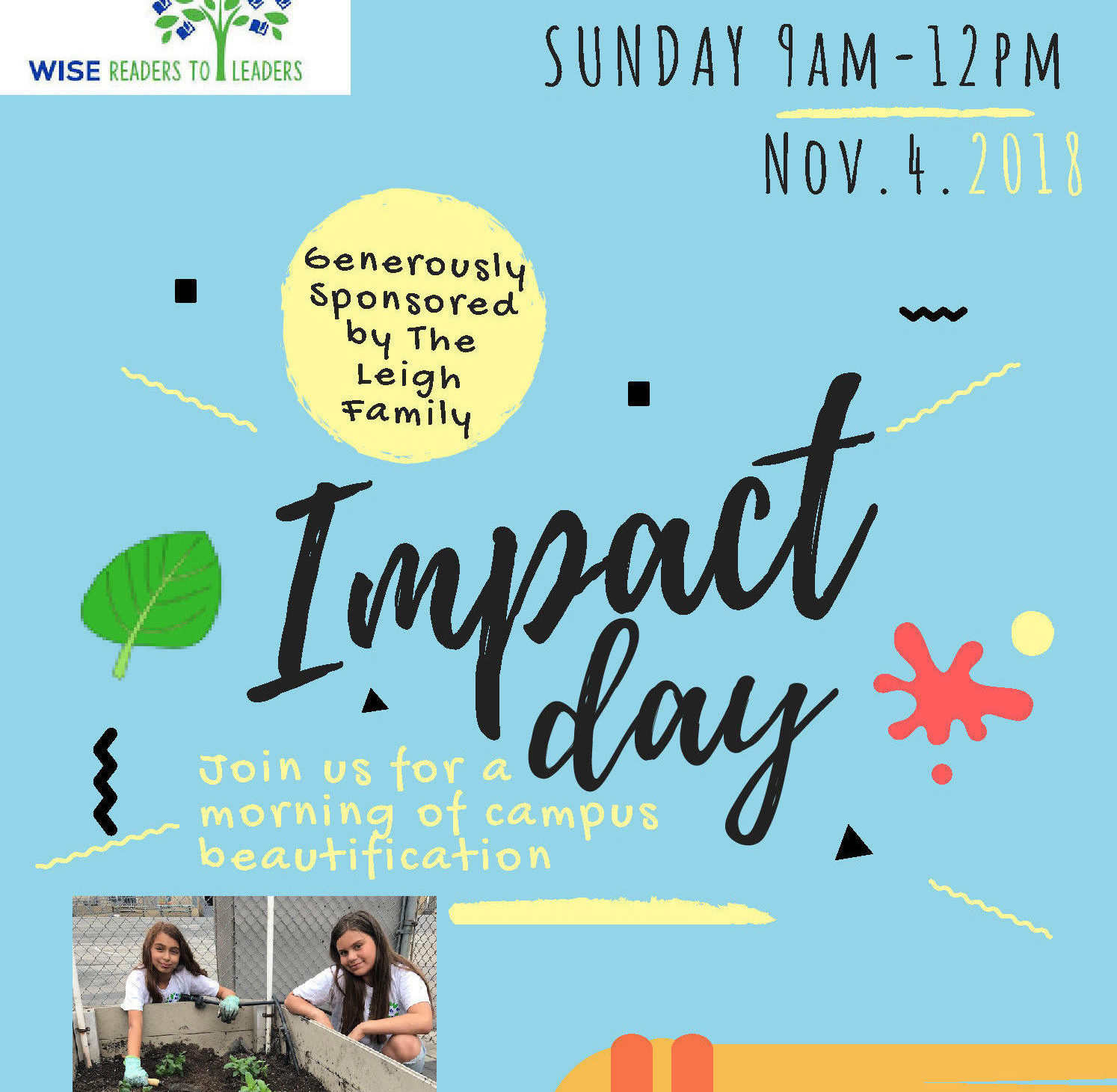 Article in the Jewish Journal 2018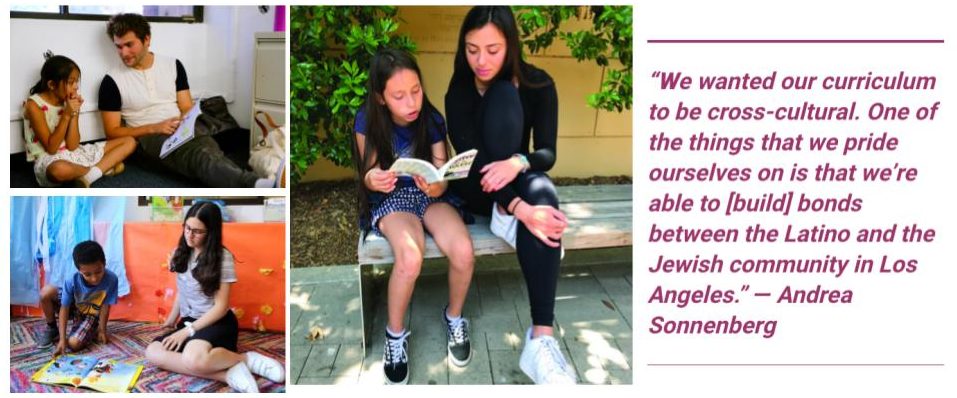 Turning Readers into Leaders – July 12, 2018
JEWISH JOURNAL | It's summertime and the school bells are no longer ringing, but more than 400 students from Title I schools continue to board school buses. All over Los Angeles, kindergartners through eighth-graders hop out of those buses onto the grounds of several Jewish institutions, and they're all greeted with enthusiastic cheers. They're served breakfast, followed by a "Reading Rally" featuring cheers, chants, a read-aloud session and a visit by a community guest. Welcome to a typical morning in the Wise Readers to Leaders (WRTL) Summer Literacy and Enrichment Program. Click here to continue reading article.
In 2018, we served 400 scholars from Kindergarten through 9th grade, and have some of our returning high-schoolers working as bus monitors and classroom aids. We also opened a new campus! Thanks to Wilshire Boulevard Temple, we are now able to reach more kids in a new and high-need area of Los Angeles. Our scholars are already benefiting from the new and innovative curriculum created and implemented by our team of Education Directors.
Thanks to a partnership with Lionsgate Entertainment, we were able to complete four campus beautification projects at one of our partner LAUSD elementary schools on Impact Day. We painted an outdoor mural, did a garden makeover, cleaned the library and painted an indoor mural, and facilitated STEAM activities along with a donated cart from Two Bit Circus. It was a successful day and we are thankful for all the volunteers who helped make it happen!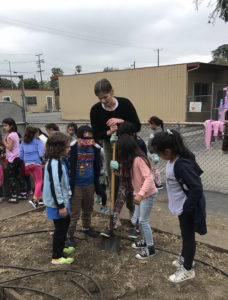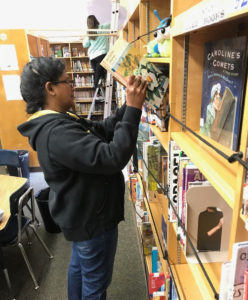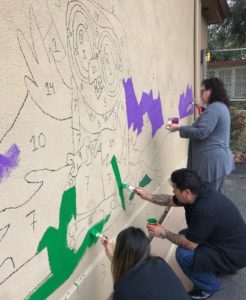 March 10, 2018
Over 100 scholars and families joined us for a cross-cultural celebration of Passover and Easter this spring. Scholars, parents, and teen volunteers partook in hands-on activities that taught about the traditions and history of Passover. Scholars were able to participate in a fun easter egg hunt to top it all off! Our teen volunteers planned all of the activities and did a stunning job leading the day.
We had our best donor event yet, with an outstanding silent auction, teen volunteer and middle school scholar speakers, and generous donations from our loyal supporters. Four star teen volunteer Junior Literacy Leaders were honored with Teen Volunteer of the Year awards – thank you Gwen Strasberg, Maddy Glick, Kyle Reims, and Josh Bronte! Thank you to all who were able to join us, your support means the world to us and our scholars!
December 2, 2017
Over 200 scholars, parents, and volunteers joined us at our annual Holiday Party this month! It was a fun-filled day of book wrapping, ornament making, games, a photobooth, holiday music, cookie decorating, clay snowman creations, and more. We couldn't have asked for a better way to close out another year with our WRTL community!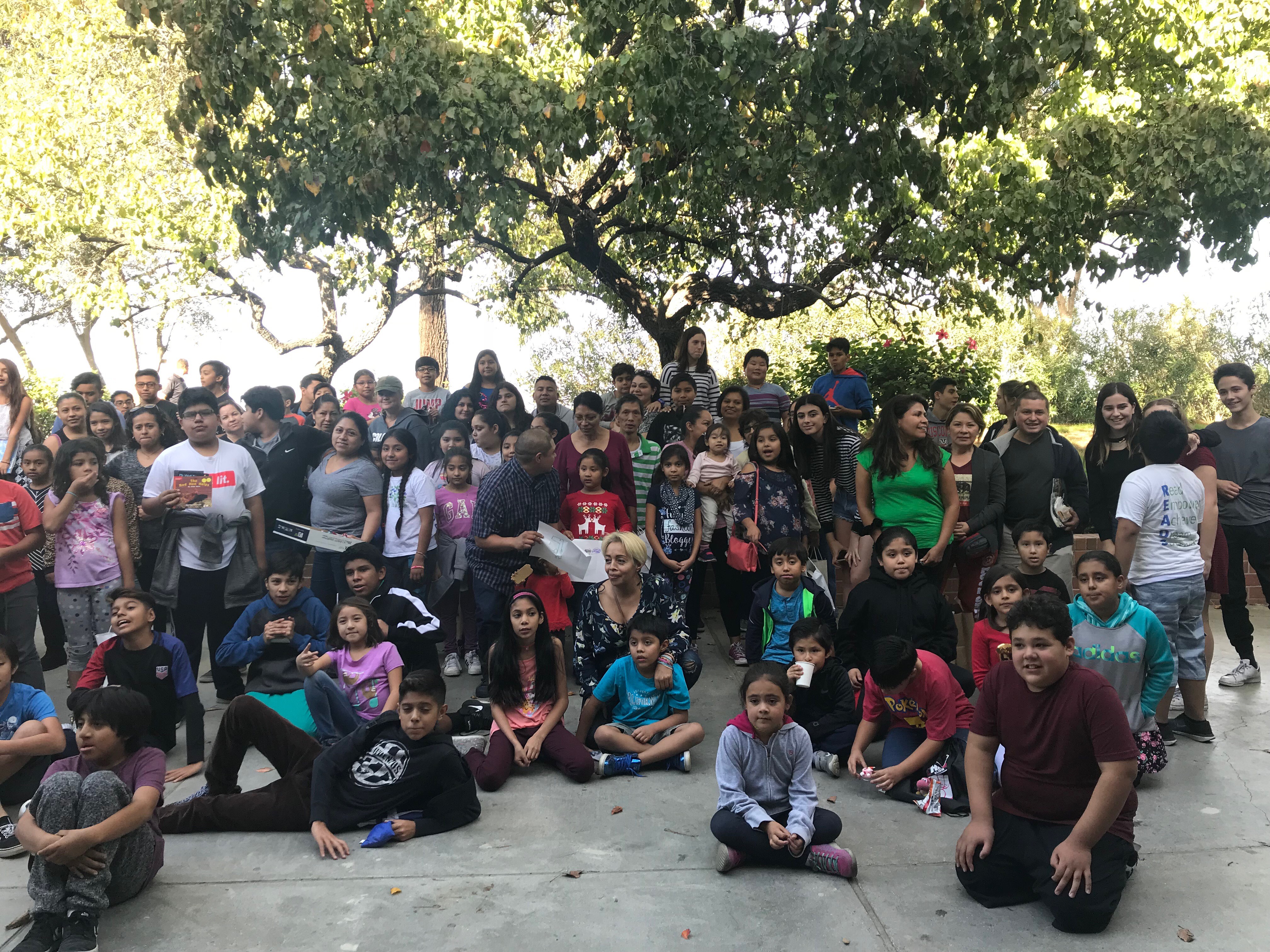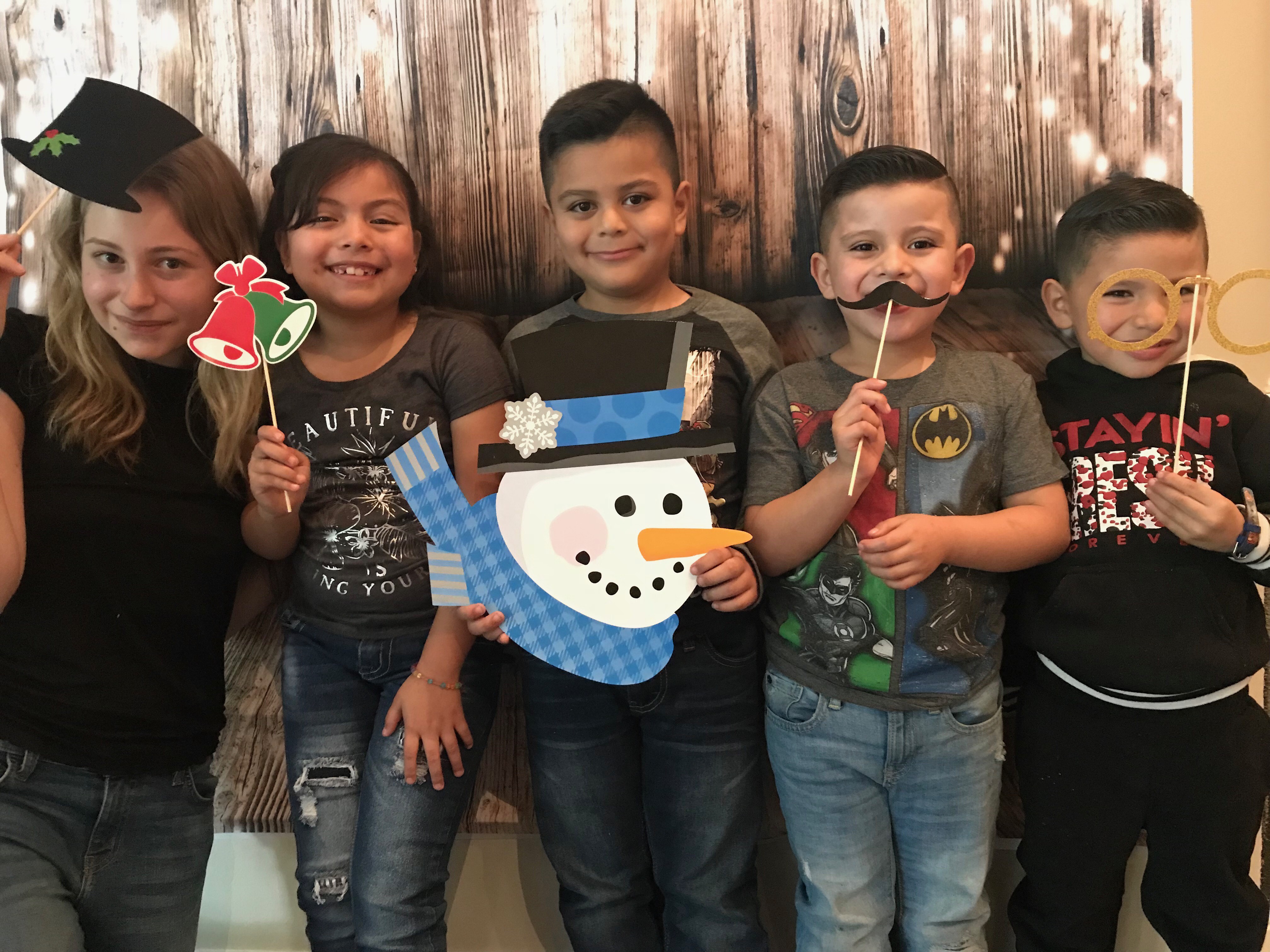 Wise Readers to Leaders hosted a satellite Mitzvah Day in the community of program participants at the Reseda Recreation Center. Scholars, families, and WRTL volunteers all created placemats, holiday cards, and gift bags in partnership with Meals on Wheels. They also made Stars of Hope to be sent to Syria in the Wise packages. Parents had the opportunity to speak with Bet Tzedek community lawyer Casey Raymond about workers' rights and engage in dialogue about how to secure minimum wage and navigate larger employment systems. It was a successful day of giving back and engaging the WRTL community!
October 16, 2017
Our teen volunteer Junior Literacy Leaders presented alongside clergy from 25 of Los Angeles' institutions about prayers of healing and inspiration at the Interfaith Vigil at Stephen S. Wise Temple. The evening was full of song and hopeful words to remind participants of the highest values that hold us together as a community and a nation in these challenging times: compassion (חסד), justice (צדק), and mutual respect (כבוד).

Remote Reading Launch 2017
September 19, 2017
Our age-specific and literacy-based mentorship programs launched for the 2017/2018 academic years. Kinder-5th grade scholars are our Remote Readers and are paired with a teen volunteer. We have almost 50 pairs this year, and each one speaks once a week on the phone to read and discuss the designated book together. Our middle school scholars are the Remote Leaders and are participating in our pilot literacy-based mentorship program. We started off strong with 25 pairs that speak on the phone weekly about the assigned reading while getting to know each other at the same time. Every 4-6 weeks, the entire Remote Leading group gets together for a larger book club and field trip. Learn more here!
Wise Readers to Leaders in the News 2017
August 24, 2017
Wise Readers to Leaders was a proud recipient of a $250,000 Cutting Edge Grant from the Jewish Community Foundation of Los Angeles.
Rock the Clock Fundraiser 2017
August 2, 2017
Our second annual Rock the Clock campaign went off in full swing this summer. Our 5-8th grade scholars were able to volunteer to help make calls to our community of supporters to fundraise for our programming. Scholars had a blast making calls and getting to personally explain to people the positive impact that WRTL has on their lives. Thanks to the hard work of scholars and staff, plus the matching donations of our generous partners, we raised $70,000!
Summer 2017
Every week over the summer, workshops are held to bring our scholars' parents into the learning that takes place during our program. This summer we had a professional chef come in to do an interactive demonstration on nutrition and healthy cooking, a lawyer discuss immigration policy and recent changes, an advocate for immigrant rights do a hands-on demo to prepare emergency documents with families, and a staff-led evening of STEM-oriented games where families participated in friendly competitions together. Extending the learning of our scholars into their homes is critical in ensuring that parents are involved and supportive of literacy gains.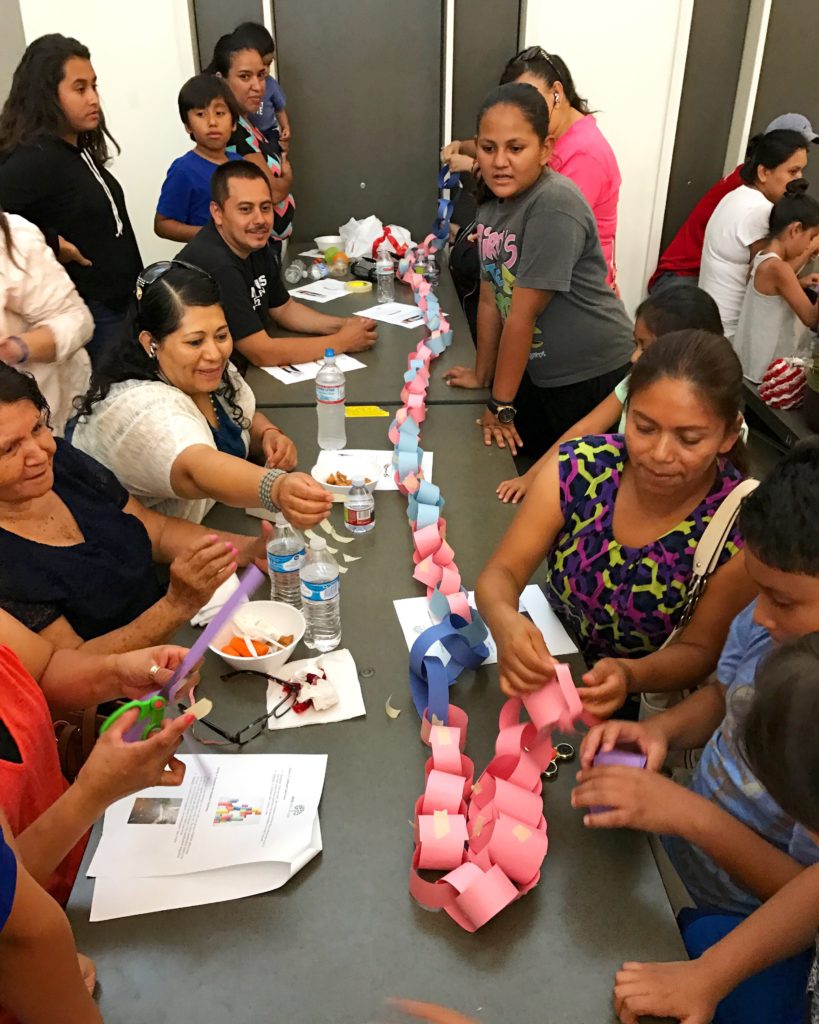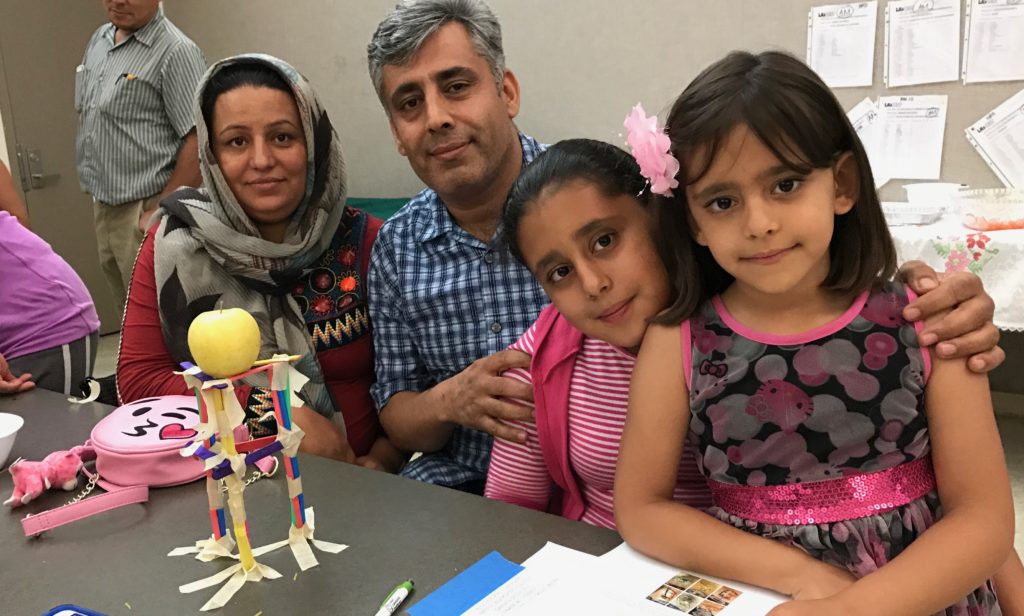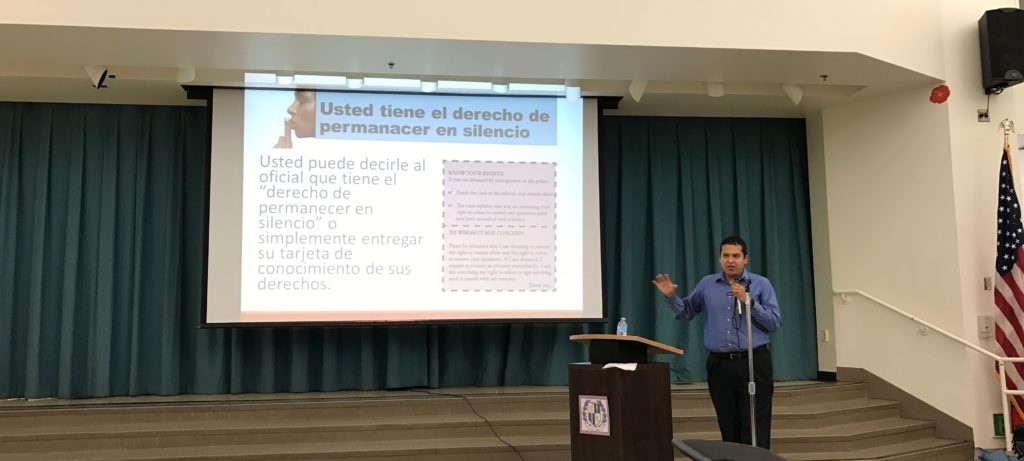 The middle schoolers at Wise Readers to Leaders had the opportunity to meet a range of successful individuals in their respective careers. The generous folks who volunteered their time to share with our 6-8th grade scholars included an advertising creative at Google, a doctor, a policeman, a professional bassoon player, an actress, the Diversity Coordinator at UCB, an army veteran, a teacher, a social worker, and a business entrepreneur. The scholars prepared questions to ask each professional and learn about a range of different career opportunities. Thank you to all who came out to make this day special for our scholars!
July 18, 2017
This summer, our middle schoolers got to enjoy the healing powers of cold saltwater in the heat of high summer. Thank you to a generous donation from Marjorie Nielsen, all of our middle school scholars were able to get surf lessons with Go Surf LA. Some scholars had never been to the beach before, let alone surfed! It was an incredible day of new experiences and adventure. Every single one of our middle schoolers swam in the ocean that day, despite grumbles of not wanting go on the trip beforehand. A great success in the sun, sand, and waves!
Donor Thank You Event 2016
Spring 2016
We celebrated our past year's success and thanked our incredible donors at the lovely home of Glenn and Andrea Sonnenberg. Alex Johnson, Executive Director of CDF California, spoke to the group about the impact the program has in aiding underserved children as we work together to shrink the widening achievement gap. Vanessa Keushkerian, Andie Gilder, and Matthew Bahar were awarded the Teen Volunteers of the Year.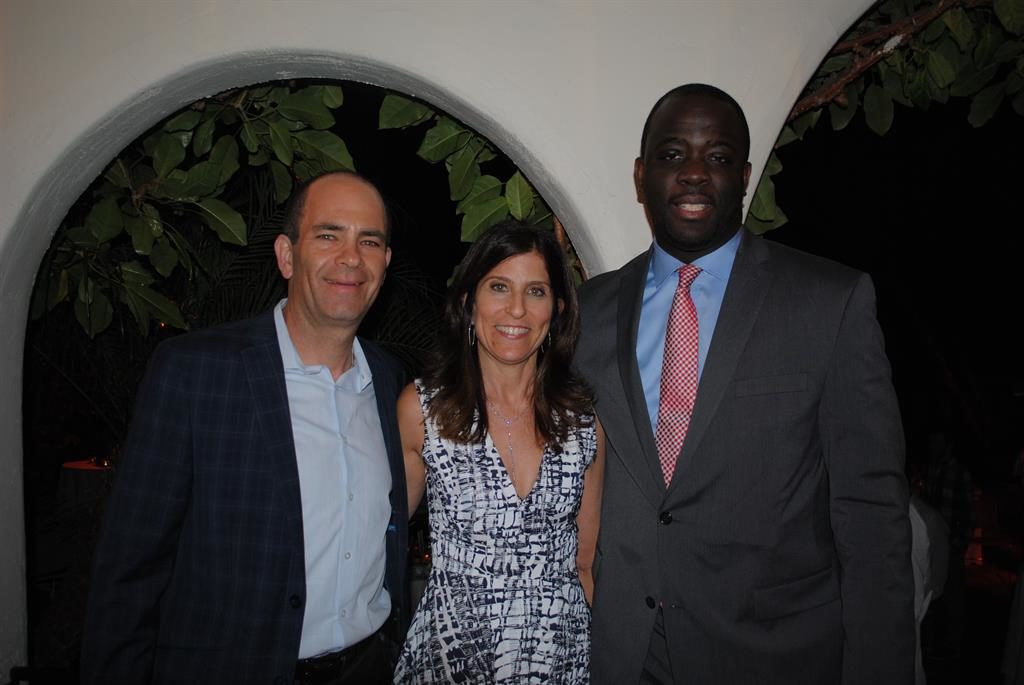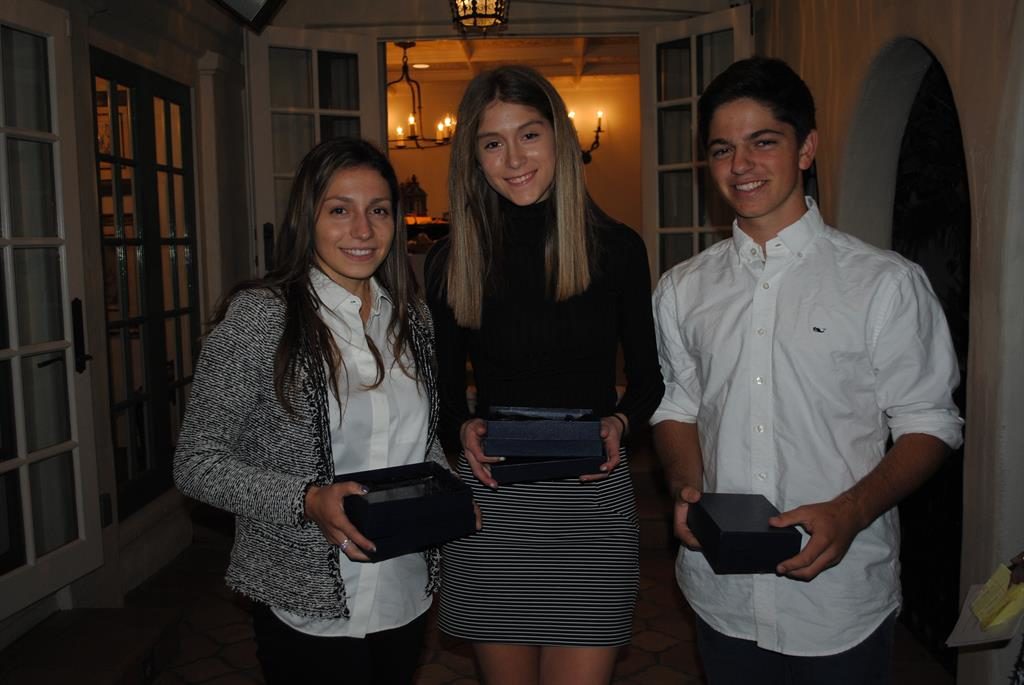 Wise Readers to Leaders visited Portraits of Hope recently on one of several field trips. Portraits of Hope, developed initially for seriously ill and physically disabled children, conceives and develops one-of-a-kind motivational art projects that merge the production of dynamic public art works with creative therapy for hospitalized children and civic education for students of all ages. Our scholars helped to paint floral disks that will be used in Animal Shelters across Los Angeles to aid in their beautification.