"Free" to Start a Book Club — Shelby Weiss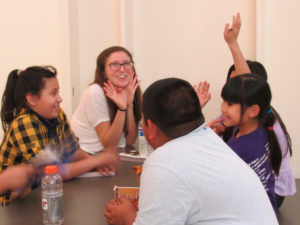 Even after my three years of involvement at Freedom School, I was still perplexed by its title: "Freedom School." It's a summer program, not a school. And, we live in an inherently free society, so the word freedom seemed to be redundant. Then I heard Rabbi Eli Herscher speak about the organization and its mission. He said that reading and learning set you free. We need to be literate and educated in order to enjoy our freedoms, protect our freedoms, and fight for the freedom of others.
In an ideal world, Freedom School would be year round. I would give anything to attend Harambe instead of choir rehearsal or do Integrated Reading Curriculum instead of English class. But, regular school is just as important, for the scholars and for me. Recently, however, my scholars and I have been able to attend Freedom School and regular school simultaneously. I started a book club with a group of 4th and 5th grade students at Stanley Mosk Elementary School. We are reading five of my favorite books, including Blubber, by Judy Blume and The Boy in the Striped Pajamas by John Boyne. More importantly, they all reflect the same values and themes present in the Freedom School curriculum- kindness, tolerance, liberty, and equality. We discuss the content and lessons of each book, as well as the history of each time period in which they take place, all while enjoying a themed snack! They keep reading journals, where they are encouraged to ask and answer questions and to make vocabulary lists.
Founding the club was not a simple or inexpensive task! I held a bake-sale at my high school, where I was fortunate to raise enough money and then some! Students would sponsor one book (or more!), and for each book they sponsored, they received a baked good. With that money, I was able to purchase every member a copy of each of our books, as well as a journal and a pocket dictionary. And I was still able to donate a significant portion to Freedom School.
I am so thankful for all the support I have received for my book club. But, I am most grateful for the support I have received from the scholars themselves. They have been relentlessly enthusiastic and engaged, inquisitive and insightful, dedicated and driven. I cannot wait to finish up the year and see what next year has in store.